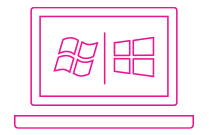 MANAGE
Create VPN and Always On VPN Connections.
DEPLOY
Rapidly roll out your VPN and Always on VPN Connections
FLEXIBLE
Works with On-Prem and Remote. Domain Joined and Non-Domain Joined.
AUTOMATE
Automatically keep all PCs updated as needed
Our Policies are Powerful Sets of Commands
That You Will Only Find in Paks.
Policies to create, manage, and deploy settings that users need to get work done securely and efficiently in any workspace environment.
Ready to Get Started? Register for Our Webinar.
Our PolicyPak Webinars explain everything you need to know to get started with the software. Once you've attended the webinar, you'll be provided a download link and license key to start a free trial.