If you're the IT manager of AutoCAD users, you have just found your new favorite management utility.
Why?
Because before today, you had to run around from machine to machine, fixing AutoCAD settings, getting people out of messes, and hoping you don't do more damage along the way.
PolicyPak doesn't deploy Autocad using Group Policy. PolicyPak manages and locks down AutoCAD using Group Policy.
Here's a video to show you we can help you deliver almost all the AutoCAD settings, and truly lock them down to ensure users can't work around them. This means less calls to the help desk, and less troubleshooting for you and your staff, and higher productivity and fewer errors.
TIP: This video shows AutoCad 2012, but PolicyPak has pre-configured Paks for 3DSMax, Civil 3D, Inventor2012, P&ID, Design Review, Maps 3D and Revit. So if you want to manage ANY AutoCad product using Group Policy, this example video will show you the basics. Then you can use any of our pre-configured AutoCad product paks to manage the specific AutoCad application you want using Group Policy.
Click here for Video Transcript
There's simply no ADM template for AutoCAD. And, even if there was, an ADM template wouldn't help you, because ADM templates can't deliver the lockdown capability you saw in the video. There's no "lock down" or "remove a setting" or "disable a whole tab" concept within an ADM template. Moreover, ADM templates would have no way to affect ALL the AutoCAD profiles on the computer.
Only PolicyPak can.
So, don't be without the secret AutoCAD configuration weapon. You can deliver key settings and lock users out of scary AutoCAD settings, like what is seen here.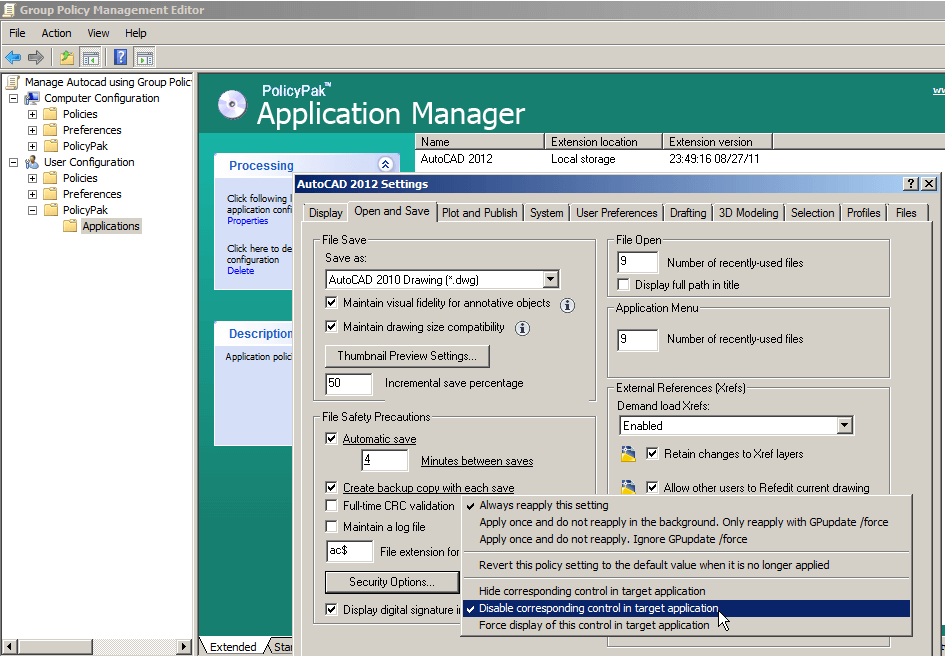 You can ensure the correct security settings are delivered, and enforced on, like what is seen here.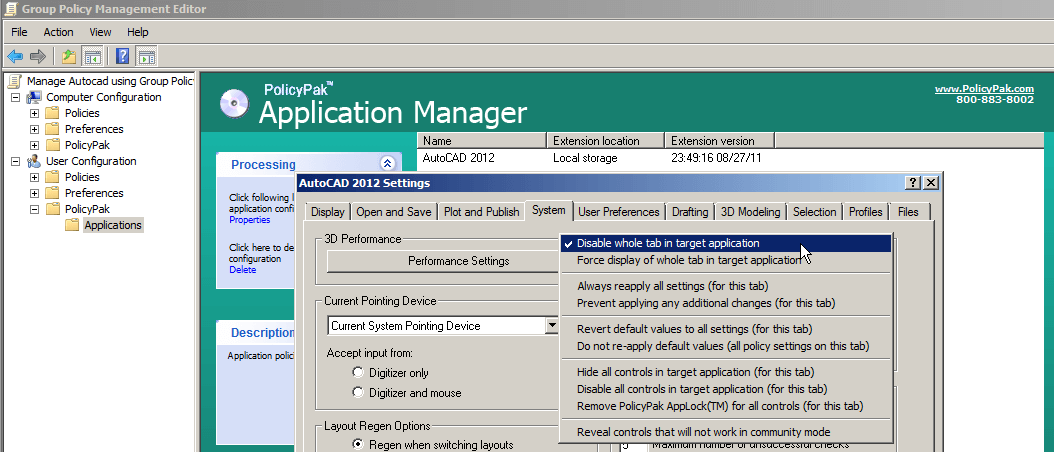 Or ensure users don't have access to areas of the application they really shouldn't, like what is seen here.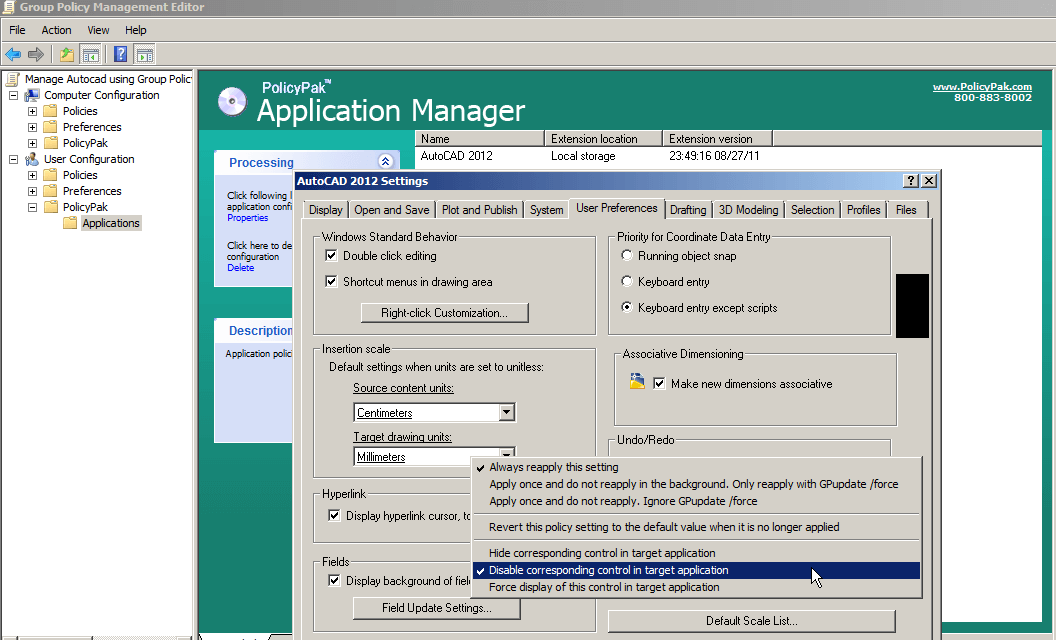 If you've got AutoCAD on desktops – you have to manage it. With PolicyPak, you can deliver the AutoCAD settings that make sense for your users, and ensure that they stay unchangeable.
Besides, once you're using PolicyPak to manage AutoCAD, you'll also get to manage all your other enterprise desktop applications the same way:Flash, Java, WinZip, Firefox, and any custom applications you have. They're 100% included – absolutely free.
It's all included when you're a PolicyPak Professional customer.
PolicyPak was designed by Group Policy MVP Jeremy Moskowitz – who "wrote the book" on Group Policy, runs GPanswers.com, and lives and breathes Group Policy and enterprise software deployments and desktop lockdown.
When you're ready to get serious about managing your Windows applications, like AutoCAD – we're ready for you. Click the Webinar or Download button on the right to get started today.