What is scarier than a faceless remote user accessing your organization's computers from far away?
And do you really trust your users to remote into your own network in the most secure fashion?
The ramifications for misconfigured settings for an application such as LogMeIn Pro could be serious.  Very serious!
And when things are serious, there's PolicyPak.
At PolicyPak, we enforce and lock down the optimum settings values that you, the administrator, want them to have.  PolicyPak sets and enforces expectations for your users' applications, so that they get the same experience, every time they launch it.
Keep your LogMeIn Pro configuration settings delivered, enforced and automatically remediated with PolicyPak.  Check out this video to see how it's done:
Click here for Video Transcript
Our PolicyPak software snaps-in to the Group Policy Editor and gives you the same user interface as LogMeIn Pro.  You need your users to be able to remote into their workstations at the office when they're away, but they can't if the "Enable Wake On LAN from sleep and power off" setting is disabled.  Select it, enable it, and then lock it down with PolicyPak by selecting "Hide corresponding control in target application."  This PolicyPak feature completely hides the setting from the user.
So many of our customers use PolicyPak to configure the proxy settings for their Internet applications.  Use PolicyPak to set the "Proxy server address and port" settings for LogMeIn Pro.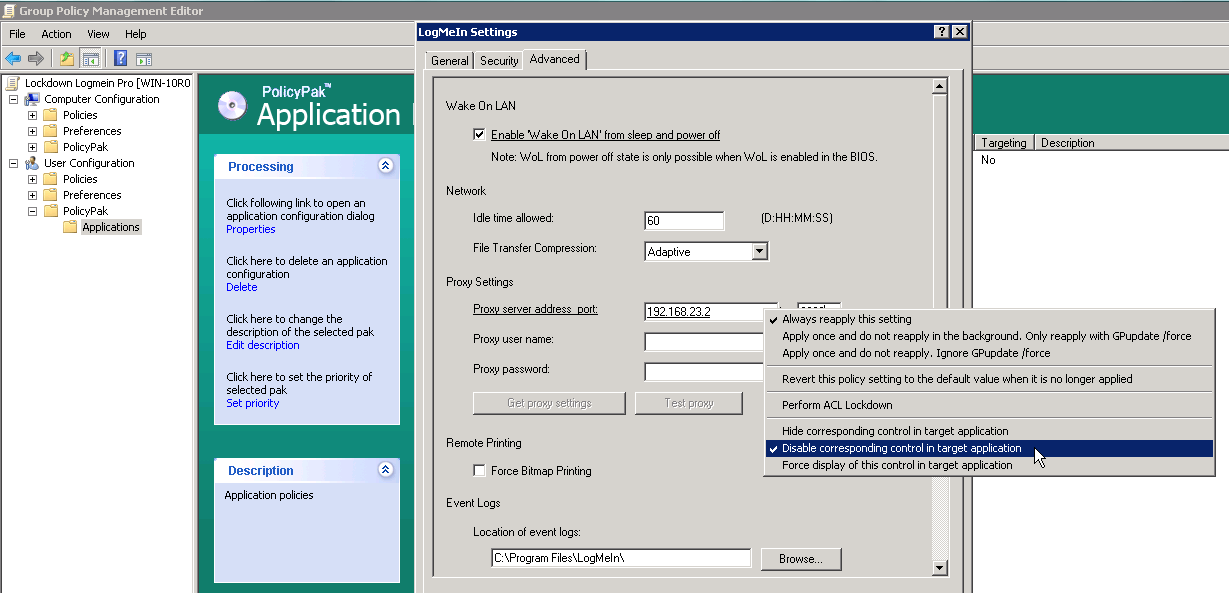 As soon as a remote session times out or gets disconnected you want the application locked down to keep new and unwanted connections out.  Use PolicyPak to configure "Lock when connection has been lost" and "Lock when connection has been timed out."  Then use our exclusive ACL Lockdown feature to prevent savvy users from modifying the setting in the registry itself.
With PolicyPak, you're the one in control.
Besides, once you're using PolicyPak to manage LogMeIn Pro, you'll also get to manage all your other enterprise desktop applications the same way: Flash, Lync, Java, Firefox, and any custom applications you have. They're 100% included – absolutely free.
It's all included when you're a PolicyPak Professional customer.
PolicyPak was designed by Group Policy MVP Jeremy Moskowitz – who "wrote the book" on Group Policy, runs GPanswers.com, and lives and breathes Group Policy and enterprise software deployments and desktop lockdown.
When you're ready to get serious about managing LogMeIn Pro, PolicyPak is ready for you.