You want your users to spend their time creatively, making attractive documents with Publisher 2013, not calling the helpdesk because they meddled with their application settings and now are getting unexpected results.
That's where PolicyPak comes in.  We enforce and lock down the optimum settings values that you, the network administrator, want them to have.  PolicyPak sets and enforces expectations for your users' applications, so that they get the same experience, every time they launch it.
Keep your Microsoft Publisher 2013 configuration settings enforced and streamlined with PolicyPak.  Check out this video to see how it's done:
Click here for Video Transcript
Our PolicyPak software snaps-in to the Group Policy Editor and gives you the same user interface as Publisher itself. Like all of the Microsoft Office Suite applications, we give you the ability to disable all of those pesky Privacy Options such as "Sign up for the Customer Experience Improvement Program."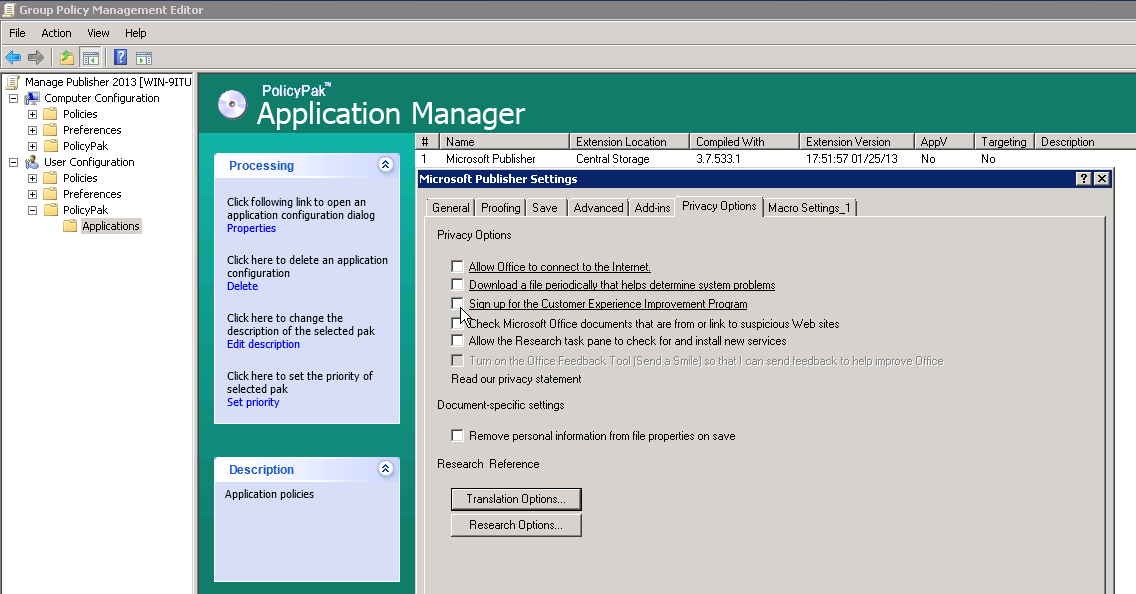 Security is paramount for your network and PolicyPak helps you make sure that all of the security preventive measures offered by Microsoft Publisher its other supported applications are taken full advantage of such as "Require Application Add-ins to be signed by a Trusted Publisher."

PolicyPak helps you with security, yet can assist your users to improve their productivity as well in simple ways such as making sure that the "Check spelling as you type" setting is enabled.
With PolicyPak, you're the one in control.
Besides, once you're using PolicyPak to manage Microsoft Publisher 2013, you'll also get to manage all your other enterprise desktop applications the same way: Flash, Lync, Java, Firefox, and any custom applications you have. They're 100% included – absolutely free.
It's all included when you're a PolicyPak Professional customer.