You depend on Crystal Reports to turn information from just about any information source into sophisticated reports.
Your users expect a predictive experience every time they use Crystal Reports. But if your users are calling the helpdesk because they misconfigured its configuration settings, you're losing money every second.
That's where PolicyPak comes in.
Make certain your SAP Crystal Report settings are dictated and ensured using PolicyPak with Group Policy. Check out this video to see how it's done:
Click here for Video Transcript
Our PolicyPak software snaps-in to the Group Policy Editor and gives you the same user interface of SAP Crystal Reports itself. Not only can you enforce the setting for "Update Enterprise Report Properties on Save" you can even hide this setting from your users so they don't even know it exists.
The Database tab has numerous critical settings, important enough that PolicyPak will even allow you to disable this entire tab of settings, preventing your users from altering any of them.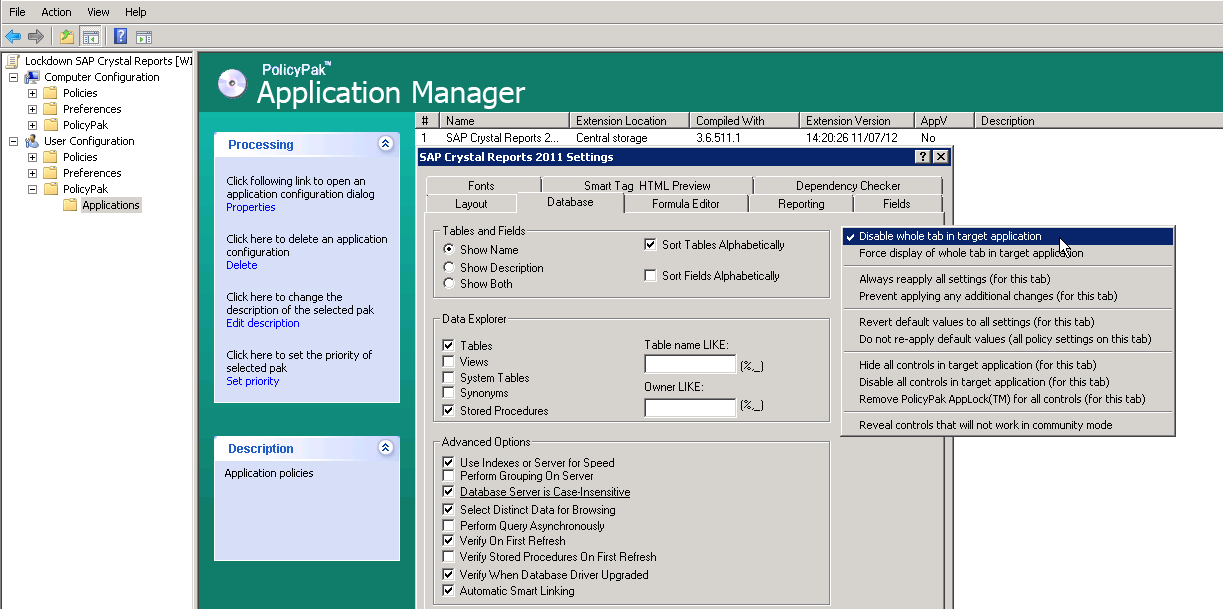 As a security minded network Administrator, you probably don't like when applications save or remember logins or passwords.  With PolicyPak you can make sure that "Remember my login when switching between companies" is always unchecked and disabled.  With PolicyPak you can even hide this setting completely from your users by right clicking on it and selecting "Hide corresponding control from target application."
With PolicyPak, you're the one in control.
Besides, once you're using PolicyPak to manage SAP Crystal Reports, you'll also get to manage all your other many enterprise desktop applications the same way: Flash, WinZip, Firefox, and any custom applications you have. They're 100% included – absolutely free.
It's all included when you're a PolicyPak Professional customer.
PolicyPak was designed by Group Policy MVP Jeremy Moskowitz – who "wrote the book" on Group Policy, runs GPanswers.com, and lives and breathes Group Policy and enterprise software deployments and desktop lockdown.
When you're ready to get serious about managing SAP Crystal Reports, PolicyPak is ready for you.