Build a Bridge for Group Policy and MDM
Group Policy is the "tried-and-true" way to manage Windows OS settings but it only works for domain-joined machines. In today's mobile-first world, many organizations are transitioning to an MDM solution like Microsoft Intune or VMware Workspace ONE.
Is MDM Right for You? MDM is the future of endpoint management, but it has some challenges you'll have to overcome.
WINDOWS 10 & 11 MDM HAS FEWER SETTING AVAILABLE THAN GROUP POLICY OR GROUP POLCY PREFERENCES
WINDOWS 10 & 11 OMA-URLS ARE LIMITED AND DIFFICULT TO CONFIGURE
WINDOWS 10 & 11 ADMX TEMPLATES DON'T PLAY NICE WITH WINDOW 10 MDM
What if you could deliver your real Group Policy settings using your MDM solution,
so you could have your cake and eat it too?
Give Your MDM Enrolled Machines Super Admin Powers
PolicyPak MDM Edition supercharges your MDM enrolled devices with the group policy, group policy preferences and other Windows settings you need to run IT efficiently and securely.
Deploy REAL Microsoft Group Policy settings using your favorite MDM service
With PolicyPak, you don't have to hunt down and find obscure OMA-URI configurations. Simply create policies with the Group Policy Editor export them. Then, wrap them into a simple MSI file that you deploy using your MDM solution's deployment profiles.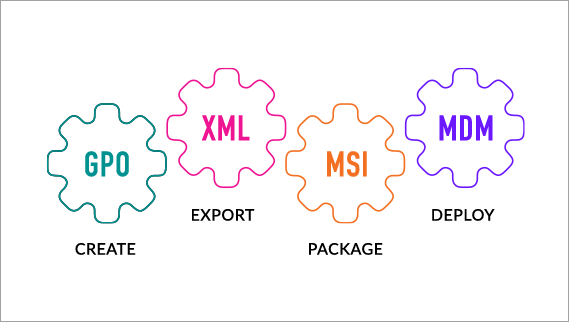 PolicyPak MDM edition integrates with Microsoft Endpoint Manager (Intune). You can deploy Group Policy's full range of settings to any device with Windows 10.
No problem! PolicyPak MDM edition works with any MDM service that supports Windows 10.
Elevate Permissions for Standard Users without Giving Away
Local Admin Rights
Giving away local admin rights jeopardizes information security and puts compliance at risk. You never, ever want to grant local admin rights to Standard Users.
PolicyPak Least Privilege Manager elevates the permissions Standard Users need to work with approved applications and system tools.
Need to manage the risk of MDM users clicking attachments,
files or links disguised as ransomware and malware?
Prevent Ransomware and Malware from Infecting MDM Enrolled Windows 10 & 11 Devices
You can use AppLocker or another application, but who has time to maintain Allow Lists?
PolicyPak SecureRunTM gives you whitelist-like control over what users can click on, but without any of the hassle. In less than one minute, you can create a policy that will block unauthorized users from installing unapproved software for your entire fleet of Windows 10 & 11 devices.
How do you manage application settings after you've deployed
an app from your MDM solution?
Control Application Settings with Your MDM Solution
PolicyPak lets you easily manage enterprise application settings without the hassle of OMA-URI or ADMX.
Configure and lockdown thousands of user settings on hundreds of commonly used applications including Firefox, Java, Flash and Adobe products.
Manage which browsers users can deploy, which websites they can visit, and automatically force them to use certain browsers for legacy websites. Even if the user tries to visit a website with the wrong browser, PolicyPak will automatically close the wrong browser and open the destination website in the right one.
PolicyPak optimizes Java-based websites too. With PolicyPak Java Rules Manager, you can decide what version of Java should run.
Manage file associations so that file types like PDFs, TXTs, and emails open in the application you decide and not the Windows default. Plus, you pick and choose where to place tiles in Windows Start Menu and Task bar. It's a simple way to bookmark your users' most-important apps.
Our Policies are Powerful Sets of Commands
That You Will Only Find in Paks.
Policies to create, manage, and deploy settings that users need to get work done securely and efficiently in any workspace environment.
Ready to Get Started? Register for Our Demo.
Our PolicyPak Demos explain everything you need to know to get started with the software. Once you've attended the demo, you'll be provided a download link and license key to start a free trial.