Simplify Windows 10 & 11 Management
Deploying Windows 10 & 11 across your organization was hard, but maintaining standard desktop policies for hundreds or thousands of computers across multiple sites may prove to be impossible without the right tools.
The Problem with Windows 10 & 11 File Associations
Windows 10 & 11 has some unexpected file associations out of the box. For example, PDFs default to Microsoft Edge whereas the majority of your users would prefer Adobe Reader. No matter how many times you "Make Adobe Acrobat Reader my default PDF application," your preference just won't stick.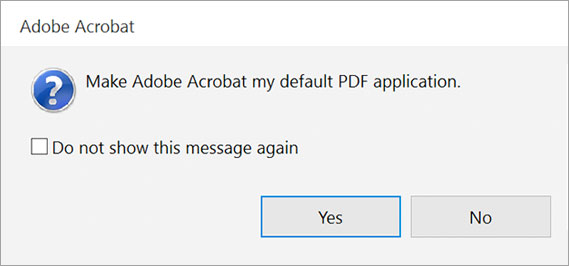 With PolicyPak File Association Manager you can automatically detect what applications are on the machine, then match those applications with the correct file extensions for your Windows 10 & 11 machines. PolicyPak File Associations Manager ensures you'll never have issues again concerning which application opens up for your users.
Customizing Windows 10 & 11 Start Screen and Taskbar for Both Users and Groups
Although deploying a new application to a Windows 10 & 11 machine is easy enough, it's nearly impossible to place the icon exactly where you want it. To ensure your users stay fast, productive and happy, it's critical you have full control over the curation of Start Screen and Taskbar icons.
That's why we created PolicyPak Start Screen & Taskbar Manager. We vastly simplified the process of customizing tiles for the applications your users have to get to. You can lock down certain areas of the Start Screen and allow your users autonomy over other areas.
Windows 10 & 11 Feature Management
Wouldn't it be simple if we could just all be satisfied with the default Window 10 & 11 feature set? Unless you are the smallest of organizations, you can't. If you use image rollout, you can manage dozens of golden images that require constant updating in order to deploy various feature sets to assigned groups. If you use Autopilot rollout, you have to be satisfied with how the machine comes from the factory.
PolicyPak Feature Manager creates policies that automatically adds or remove Windows classic and optional features at will. You can modify the Windows 10 & 11 feature set whenever you want or do the same with Windows Servers.
Managing Domain-Joined and Non-Domain Joined Windows 10 & 11 Environments
Today's mobile workforce expects anywhere, anytime access to company resources. As such, your organization must choose between a domain-joined, non domain-joined, or hybrid model. The problem is, MDM doesn't offer as many policies as Group Policy and Group Policy doesn't offer the same flexibility as MDM.
PolicyPak works alongside Group Policy or Microsoft Endpoint Manager allowing you to create the policies you need to manage the details of your Windows 10 & 11 deployments. PolicyPak works with both domain joined and non domain-join machines.
Our Policies are Powerful Sets of Commands
That You Will Only Find in Paks.
Policies to create, manage, and deploy settings that users need to get work done securely and efficiently in any workspace environment.
Ready to Get Started? Register for Our Demo.
Our PolicyPak Demos explain everything you need to know to get started with the software. Once you've attended the demo, you'll be provided a download link and license key to start a free trial.