You've got a busy dental office with a steady flow of patients walking in and out all day.  You need your office to run as efficiently as possible in order to service them and their needs.  This means you need your practice management and imaging software to work efficiently too.
What's more, every patient transaction needs to follow the same routine every time, so that each patient gets the proper attention they deserve.
But don't worry.  PolicyPak is all about making sure that your desired application settings are delivered routinely all day long.
At PolicyPak, we enforce and lock down the optimum settings values that you, the administrator, want them to have.  PolicyPak sets and enforces expectations for your users' applications, so that they get the same experience, every time they launch it.
Keep your SaralDent Plus configuration settings delivered, enforced and automatically remediated with PolicyPak.
Our PolicyPak software snaps-in to the Group Policy Editor and gives you the same user interface as SaralDent Plus.  Use PolicyPak to ensure that "Check against overlaps" and "Check Attending Provider availability" are always checked so that your appointments are properly set.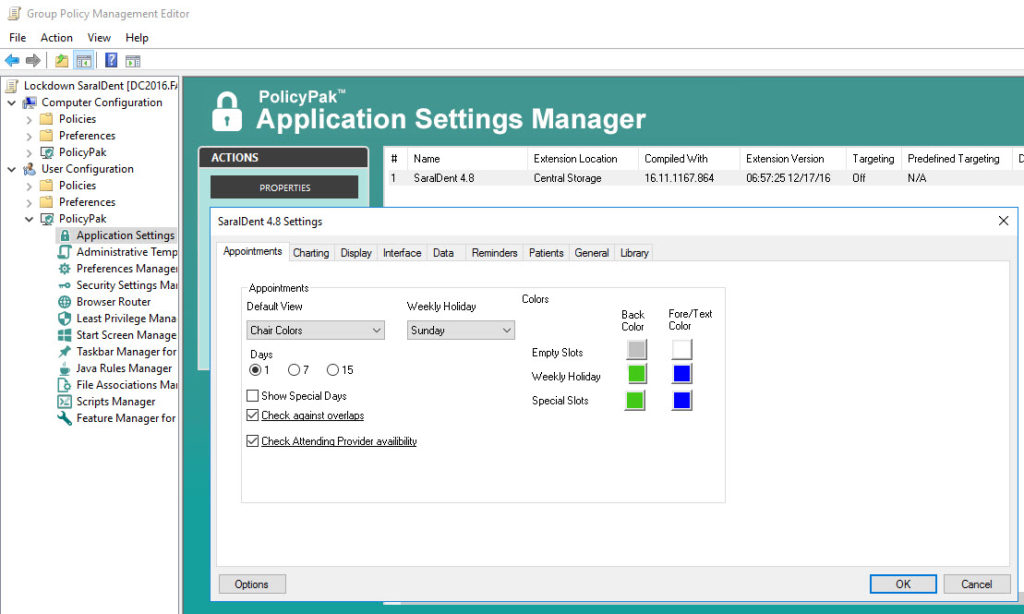 You don't want your patient's health compromised because "Warn of Health Alerts and Allergies" wasn't checked so make sure it is with PolicyPak.  While you're at it, make sure that "Prompt for related Lab Assignments if any" is checked as well.  With PolicyPak it's easy to know which configured settings values are being delivered because each and every one is underlined.
Besides your patients' health, you've also got to be concerned about their data as well, which means it's vital that this application gets backed up every day.  With PolicyPak you can rest assure that SaralDent Plus will remind your users to do so every day.  Then, to make sure that this, and any of the settings within this application are enforced and protected, you can use PolicyPak's unique signature feature, ACL Lockdown, which locks down these settings all the way down to the registry itself.  This ensures that even registry savvy users can't alter your desired settings.  To do this, simply right click any of your configured settings and select "Perform ACL Lockdown."
With PolicyPak, you're the one in control.
Besides, once you're using PolicyPak to manage SaralDent Plus, you'll also get to manage all your other enterprise desktop applications the same way: Flash, Lync, Java, Firefox, and any custom applications you have. They're 100% included – absolutely free.
It's all included when you're a PolicyPak Professional customer.
PolicyPak was designed by Microsoft MVP, Enterprise Mobility Jeremy Moskowitz – who "wrote the book" on Group Policy, runs GPanswers.com, and lives and breathes Group Policy and enterprise software deployments and desktop lockdown.
When you're ready to get serious about managing SaralDent Plus, PolicyPak is ready for you.